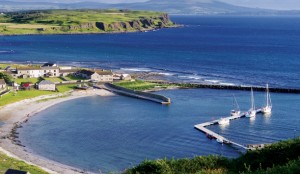 Ballycastle may only be a small town on the north-eastern coast of Northern Ireland but it's certainly very beautiful. Located within an area of outstanding natural beauty, there's certainly a lot to celebrate in this area. And, as we all know, the people of Northern Ireland love a good celebration, especially when it involves eating lots of food. While many party throwers may be happy to do their own catering, if you're looking for professional caterers in Northern Ireland who offer something a little bit different from the usual party spread, then look no further than Spitting Pig's Hog Roast Ballycastle. We're experts in cooking up all sorts of traditional party food, including our spectacular signature hog roasts.
The Best Hog Roasts in Ballycastle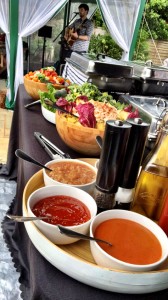 As you would expect from a catering company with such a renowned reputation, we choose only the freshest and best ingredients for the dishes that make up our menus. Wherever possible we use locally sourced produce, whether that's the hogs for our delicious hog roasts, or the vegetables for our side dishes and crisp salads. While the vast majority of our clients opt for our hog roasts or other spit-roasted meats, we do offer a great variety of other dishes, including dishes to delight even the most dedicated vegetarian. Add in canapés and appetisers, finger foods, party platters and mouth-watering desserts and you can see that we really do offer something for every occasion, every taste and, most importantly, every budget.
However, it is true to say that many people come to us for our signature hog roasts, and who can blame them? Imagine it now; the sight of a full hog being roasted to perfection on a spit, basted and attended by a professional chef to ensure that you get the juiciest, and most succulent roast. Our hogs are roasted for a minimum of 6 hours to ensure that the meat is sweet and tender, while the crackling becomes as crisp and tasty as possible. Not only will the tantalising aromas send your taste buds into overdrive, but they'll also have you drooling as you wait for the first slice. Whether you choose to have it served up in a roll complete with stuffing, apple sauce and that incredible crackling, or you prefer to keep it as the centre-piece of your buffet table, the choice is yours, but we know that our catering here at Hog Roast Ballycastle won't disappoint. Call us now to find out how we can bring the unmistakable taste of our hog roast to your next celebration.