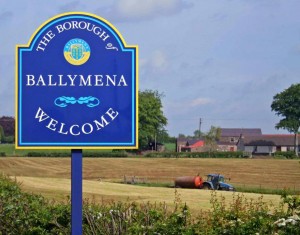 Probably most famous as the hometown of actor Liam Neeson, Ballymena was built on land given to the Adair family by King Charles I. The land was given with the provision that the town held two annual fairs and a free Saturday market, a condition which was taken very seriously as the market still runs to this day and, together with the regular livestock markets, ensures that the residents of Ballymena have access to some of the freshest produce in Northern Ireland. This is all good news for Hog Roast Ballymena as we pride ourselves on using the freshest local ingredients for our famous hog roasts to ensure that you get the best quality food possible.
The Best Hog Roasts in Ballymena
Whether we're preparing our signature hog roasts or we're cooking up other dishes from our sizeable menu, we always take the utmost care with both our ingredients and our cooking methods. Take our hog roasts for example. We spit roast them for a minimum of 6 hours to ensure that the meat is extra sweet and juicy, and that the crackling is crisp and tasty. This care is also carried on to whatever we produce, whether it's our mouth-watering canapés and appetisers, our crisp, fresh salads, our delightful main courses, our sit-down buffets or our gorgeous desserts.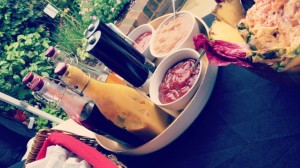 In fact, far from being merely a hog roasting company in Northern Ireland, we can cater for all tastes, all events and all budgets. So, whether you're planning a barbecue for a work do, or you want something a little different for your upcoming wedding nuptials, Spitting Pig's Hog Roast Ballymena will take all the hard work out of the catering, so you can just kick back and enjoy the party.
Succulent, juicy and oh so tasty spit roasted hogs and meats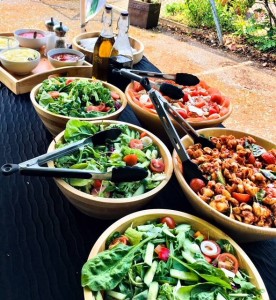 However, it is true to say that we're particularly well known for our spit roasted hogs and other meats. In fact, we're probably the best hog roasters in Northern Ireland. Choosing to have one of our hog roasts for your next celebration will not only provide you with extremely tasty food, but it will also provide a spectacular centrepiece for your guests. Whether you choose to have your hog served up as a simple 'hog in a roll' – delicious thick slices of freshly cooked pork, covered with stuffing, apple sauce and a piece of the truly moreish crackling all stuffed into a freshly baked roll, or you'd prefer it to form the centrepiece of a sit-down buffet is entirely up to you, but we're 100% sure that you won't be disappointed whichever you choose.